Description : Usopp is the sniper of the Straw Hat Pirates and a former captain Usopp Pirates. He was born in Syrup Village, a small village located in the East Blue. His character was first introduced in the story of One Piece by Yasopp Red-Hair Pirates. He is the fourth crew member who joined the Straw Hat Pirate Captain Kuro at the end of the story, and the third to rejoin including Nami. He is known by the alias "Sogeking" which has a value of 30 million berry bounty.
USOP with Normal Eq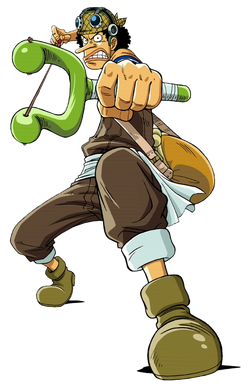 USOP with Epic Eq
Class/Type : Special Range
D D D (3 hit) : shot, shot, kick
Hold D :Quickly search for targets, and fired two bullets when removing D.
Hold D for longer: the range of view as well as a range of Usop increased, at the same time as improving shot accuracy Usop to 100%.
SD : Fire Bird...while activating this skill, a large fire bird strike all enemies that were around the area of ​​the target and burn some time. This skill can also be used in the air, while jumping a large bird hit the ground and it will blow away the enemy
ASD : Run For Your Life...This skill makes Usop can run fast to escape from the pursuit of the enemy
AD : Sniper...Usop firing range area map, an enemy that has been locked with these skills, will not be able to dodge. This skill combo to hold D for longer or skill Fire Bird
AS : Green Tar...threw 5 pieces of flower seeds that ensnare the enemy, so it can not move for a few moments.
A : Usop cant double jump, but if you hold A to long, usop can high jump
A & D : Usop can shoot while jumping down, is used to pin the fallen opponent


: usop cant dash, but if you pressing direction twice, usop can fast move to run